KidsGiving365
Creating the Next Generation of Givers
This nonprofit creates places, spaces, and ideas for kids to become involved in community service, volunteering and giving year-round. It's where kids learn their actions matter and that they can make a difference. It's also where they can learn how good it feels to give back and be local heroes.
We started KidsGiving365 (originally Santa's Elves – Kids Giving to Kids) because we wanted our kids to be smart, strong, kind and generous. We want them to have compassion and lend a hand to others when they grow up, just like our parents taught us to do.
The idea of KidsGiving365 has taken taken off because there's nothing else like it in Colorado or around the country. We all want to teach children how to be kind and compassionate. With one small act together, we can create a ripple effect that can wash over our planet. Together, we can pay it forward and create the next generation of givers. We can create a better future for our kids, our grandkids, for other nonprofits, charities and volunteer organizations, because our kids today will grow up with huge hearts.
Please join us. Get your kids involved in one of our hands-on activities or let us know what you're doing in your hometown so that others can do the same thing!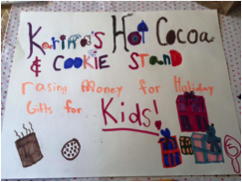 November 2015 – Here is Karina's hot cocoa and cookie stand to raise money to buy toys and shoes for the holidays. She raised $300 and adopted a family at the Santa's Elves Holiday Event.
People showed up to his birthday party with bags of pet food, treats and dog and cat toys. There was also a cash donation totaling $225
read more
People showed up to his birthday party with bags of pet food, treats and dog and cat toys. There was also a cash donation totaling $225
read more
By giving up recess every Wednesday, students learn and practice sign language skills to help their friend with cochlear implants
read more
Teacher mentioned to his class that he hadn't had a birthday cake in 10 years and thought nothing of it. The class pooled together money to surprise him with decorations, a cake and presents
read more
Isiah launched a GoFundMe campaign to raise $500 for 20 cases of hand sanitizer for every classroom at Eisenhower Elementary. $10,000 was then donated to supply every classroom at every elementary school in Flint
read more
Amelia was diagnosed with brain cancer and wanted to clean up huge amounts of trash in Kansas City community.
read more
Stefun saved $15,000 to pay off his grandparents mortgage while attending college, working a full time job and running two non-profits
read more
His dad died in the line of duty serving in the military and instead of buying a new video game, the boy gave the $20 he found on the ground to a man in uniform
read more
13-year-old asked guests of his birthday to bring toys for a girl who was recently burned. After receiving more than 150, extra were given to a pediatric burn unit
read more
9-year-old girl's best friend shaved her head to show support and then her gesture inspired 80 students, teachers, principals, and a student's mom to do the same
read more
After a member of the band misses their final performance due to a kidney transplant, band members went to her house to play for her
read more
After saving money for seven months, Cody creates invitation for 7 teachers to join him for a paid meal
read more
After not being able to afford Christmas gifts for children, he made teddy bears instead, averaging one bear a day for the last two years
read more
"Pie-ing" it forward, with the help of other volunteers, 363 pizzas total were donated to displaced residents in Louisiana
read more
Officer Gross, Clarksburg, West Virginia, joined her for lunch
read more
On the hottest day of summer, the boy and his mother left a surprise for his favorite mailman
read more
After buying sandwiches, chips, fruit and a cookie, she bagged lunches for the police officers
read more
Won $60,000 from Shark Tank for her business, "Me & the Bees"
read more
Donated over 100 books and wants to start donating hygiene products
read more
Donates to more than 1,000 people every month and was given a $20,000 donation from Tyson Foods to help her
read more
She fills the bags with toiletry items and takes them to homeless women in her California neighborhood
read more
Created "The Helping Lunchbox" to feed homeless people in New Orleans
read more
The sisters are co-presidents of Paper for Water and with the help of volunteers have raised over $650,000
read more
14-year-old girl spends summer saving money to buy raffle tickets from Joseph's House, wins the raffle, and gives the car back for them to use how they deem fit.
read more
9-years-old, now 11, 6,425 smoke detectors donated.
read more